Herbal Products
We are pleased to offer a variety of products made from herbs growing at Sweet Roots Gardens.We are a small farm collective of 3 moms of young children dedicated to growing produce and herbs to nourish families. We work together, often with our little ones by our sides, to grow herbs and veggies; harvest, dry and infuse herbs into organic oils and use them to craft our all natural, organic and herbal body products. We use all natural, certified organic. locally grown and handmade ingredients in all of our products. Our products are handmade in small batches throughout the season to ensure the freshness and vitality of all of our ingredients.
At our farm our intention is to create a working environment and products that are healing and nurturing to mothers, children, and the larger community. We sell our veggies, herbs and herbal products at farmers' markets and local stores in addition to etsy. We also provide workshops on gardening and yoga to families in our local community.
You can find all our products at our online store, shop sweetroots or on our etsy site.
You can purchase these products at local retailers:
Greenfields Market, Hens & Chicks, Magical Child (lovey kits)
---
Garden Gift Certificate
Give the gift of a garden! Do you have a loved one who has always wanted a garden in their backyard but hasn't had the time or knowledge to begin? We can help. Purchase a gift certificate from Sweet Roots Gardens and we will help them build the garden that best fits their needs. Sweet Roots Gardens gift certificates are for anyone who would like a little help with their garden. They especially make great gifts for parents wanting to include their children — Sweet Roots provides suggestions and tools for engaging children with the garden.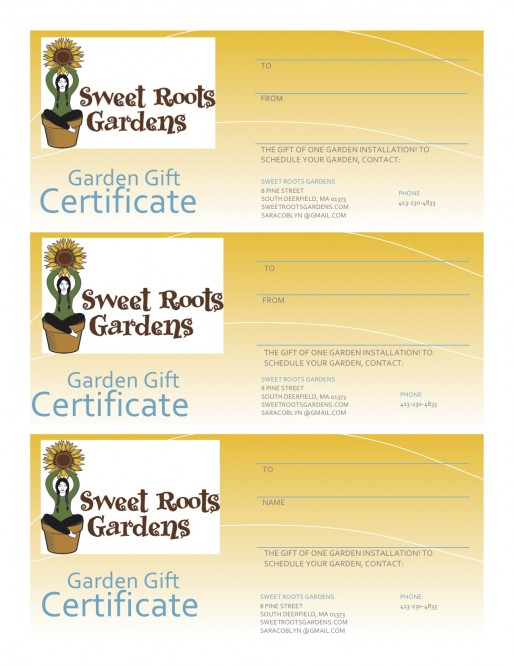 Available in 3 different denominations. Question about which might be suitable for your recipient?  Contact us and we'll help you choose.
Garden Start $100 includes a one hour consultation, layout and initial tilling of garden site. This is ideal for someone who would like just like help in getting the garden started and developing a design to install themselves.

Grow Deeper $150 includes a one hour consultation, layout and initial tilling of garden site and one return visit. This is for the person who would like a little more help and guidance with the actual garden installation.

Garden Box $250 includes a one hour consultation, layout and construction of a 3'x5' wooden garden box including compost, topsoil and labor. Ideal for someone who would not like to till into their existing lawn or does not have good existing soil. A raised bed box can also be good for an individual with physical limitations who cannot bend over.